Polyethylene: hygienic, durable, resistant.
Using our products, you can create water transport and distribution systems, in homogeneous materials, resistant to corrosion and scale.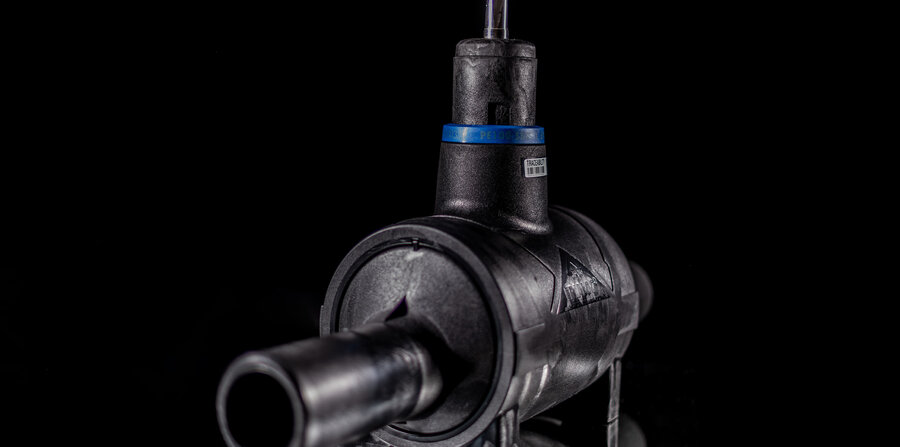 Shut-off valve in PE FRIALOC
The innovative PE FRIALOC shut-off valve, ideal for water distribution networks.

The derivation valve for DAV loaded installations is quick, simple and safe to install thanks to the RED SNAP quick coupling lever
A complete line for Polyethylene nets dedicated to infrastructures
FRIALEN system: Electrofusion fittings in PE 100 for water and gas distribution pipes
The FRIALEN brand line includes electrofusion fittings in PE100 and HDPE specific for pressure pipes and long spigot PE fittings for butt welding.
Quality and certification
FRIALEN electrofusion fittings are designed, built and tested according to the highest quality standards and with the most modern technologies to guarantee reliability and durability of the casting process over time.
The development of a new product, as well as modifications and updates to existing products, are carefully controlled and tested. In fact, FRIALEN electrofusion fittings are subjected to continuous Quality Controls with strict test requirements, which form part of the Quality Control System. Quality, Certified according to ISO 9001.
FRIALEN fittings are also certified according to DVGW GW335-B2 and are regularly audited by third party bodies.
In Italy, FRIALEN electrofusion fittings are certified by the Italian Institute of Plastics which, based on the results obtained, has authorized Aliaxis Germany to affix the mark of conformity to the requirements of the UNI standards on them. FRIALEN fittings also comply with the requirements of Ministerial Decree 174/04 and therefore can be used on pipelines intended for the transport of water for human consumption.
FRIALEN fittings can be welded with pipes having SDR from 17.6 (Smin = 3 mm) up to SDR 11 according to UNI EN 1555 and UNI EN 12201; PEBD, PE50, PE63, PE80, PE100, PE100 RC and PE-Xa pipes can be welded, whose fluidity index MFR 190/5 is between 0.2 and 1.7 g/10'.
FRIALEN fittings satisfy the requirements according to DIN 16963, part 5 and part 7, as well as UNI EN 1555-3 and UNI EN 12201-3.
Cooling times
The welding process must be carried out at ambient temperatures between - 10°C and + 45°C.
For electrofusion fittings, the cooling times are indicated in the barcode and are to be understood as times until welding is completed.
In the case of handling collars (DAA) and blank collars (SA), the cooling times indicated in the barcode are to be understood as minimum times before drilling.
The pressure test can be performed after the cooling time has elapsed after welding the branch.
Pressure resistance
FRIALEN fittings are made in PE100 and, based on the intended application, the maximum pressure resistance of the fitting can be determined.
With the relation MOP = 20xMRS/Cx(SDR-1) the maximum pressure can be determined.
MRS = 10.0 (in case of PE100 pipe)
MRS = 8.0 (in case of PE 80 pipe)
C = safety factor:
1.25 for water
3.25 for gas
SDR= d/e with d outside diameter of the pipe and e thickness of the pipe.
FRIAMAT: Multi-purpose welding machines with variable voltage for welding in complete safety
In accordance with the Italian standard EN UNI 10566, the FRIAMAT line includes a range of multipurpose variable voltage welders with traceability functions and welding parameter printing.
The FRIAMAT PRINT ECO is able to weld fittings up to a diameter of 1200, with an absorbed power of 3500 W. The body of the machine is in high resistance thermoplastic resin with IP54 protection degree and the internal software offers the possibility of memorizing 1000 welding processes. welding.
The welding cables are 4 meters long with 4 mm connectors, the barcode can be read using an optical pen or miniscanner, with the possibility of selecting the language of use and entering data manually in an emergency.
The operating range goes from -20 °C to +50 °C with automatic correction of the welding times based on the ambient temperature detected.
Welding reports can be printed with a USB printer connection. Supply voltage 220V. Weight: 18 Kg. Supplied in an aluminum case to protect against accidental blows and provided with a key lock.
With the FRIAMAT PRIME welding machine, there is the possibility of using the dedicated APP which allows the recording of welding parameter data, the geolocation and the forwarding of all information for operational traceability.
FRIATOOLS: Auxiliary equipment for safe and efficient welding
The range includes numerous tools to be able to carry out welding according to the standard requirements:
Orbital reamer for PE pipes from d 20 to d 1200
Aluminum transport cases for reamers
Manual scraper for pipes and branches from d 32 ÷ 63
Replacement blades for reamers and scrapers
Aligners and positioners for sleeves, tees and elbows
Fixture for DAA and SA saddles
SA UNI saddle clamping unit
Drilling device
Specific cleaner for polyethylene
Permanent marker for marking the welding area of pipes and fittings
Contact our industry expert